Surface Treatment Process - Hot-Selling Black Solar Mid/End Clamps
2022-07-01 09:00
一. Anodic Oxidation

Anodic Oxidation: It is mainly the anodizing of aluminum, which uses the principle of electrochemistry to form a layer of Al₂O₃ oxide film on the surface of aluminum and aluminum alloys. This layer of oxide film has special properties such as protection, decoration, insulation and wear resistance.
Process flow
Degrease→Corrosion washing→Anodic oxidation→Neutralization→Coloration→Hole sealing→Drying
1. Improve its hardness and wear resistance,
2. Realize other colors except for silver.
3. To achieve nickel-free sealing, to meet the requirements of Europe, the United States, and other countries for nickel-free.
二 . ED-Electrophoresis Deposition
Electrophoresis deposition is an electrophoresis coating on the cathode and anode, under the action of a voltage, the charged paint ions move to the cathode, and interact with the alkaline substances generated on the cathode surface to form insoluble matter, which is deposited on the surface of the workpiece.
Compared with the process flow before "hole sealing" in the anodic oxidation, it is almost the same. In other words, we can understand that the electrophoresis deposition process is to carry out the previous step before hole sealing in the anodizing process and then perform the "electrophoretic coating" step.
Difference:
There is not much difference in appearance, but the texture is different. Anodizing is first oxidation and then coloring, and electrophoresis is a direct coloring. The two are originally different processes. Anodizing is a functional surface treatment with coloring, which is generally mainly used on aluminum; Electrophoresis, on the other hand, focuses on decorative properties, but after all, it is paint, and the metallic feel may not be so good. Electrophoresis is equivalent to applying a layer of resin paint to the metal surface. And anodic oxidation is to use an electrochemical method to make the surface metal aluminum react with oxygen to form a protective film, the surface has a metallic texture, and the grade is higher. The electrophoresis effect will be better if the oxidation is done first.
Now more and more customers need the solar mounting structure with black surface treatment, we have a lot of hot-selling electrolytic oxidation black solar middle and end clamps, which are sold all over the world, welcome to contact us.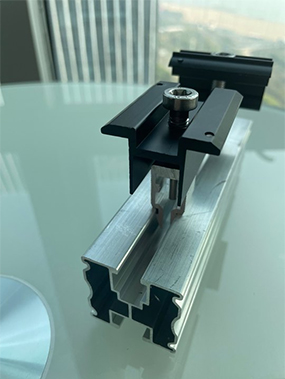 Get the latest price? We'll respond as soon as possible(within 12 hours)